NEEC News
Motul Masham NE-XC Round 2
FINAL INSTRUCTIONS AND RIDER NUMBERS ARE NOW ON THE CALENDER PAGE
The adult event is now fully booked. Lots of space is available for youth & Junior riders.
For further about the event ring the event co-ordinator Pete on 07793 259701
Post code for Sat Nav: HG4 3DQ
The second round in the 2015 NE-XC hosted by the North Riding Enduro Club. Masham is a fantastic venue that has riders coming back year after year to tackle the hills found in the Masham woods.
The Motul Masham NE-XC Round 2 youth event is going ahead as more than 7 youth riders are now on the start line and Junior riders can enter the event ages 8-12 years old.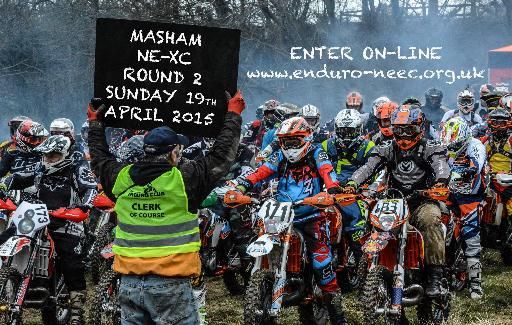 MOTOFIX RYEDALE RALLY 2015
THIS EVENT IS NOW FULL
The Yorkshire Enduro Club are hard at it again to create another fantastic Motofix Ryedale Rally. This year's two day event is on July 4th and 5th and is building to be one of the best ever.
Utilising last year's excellent start field in Goathland, North Yorkshire, there'll be the usual YEC freebies - free camping - free Saturday night food - two pubs next door (not free unfortunately) and clean loos!
Saturday will include 150 miles of forest roads, some single track, a few challenging bits to get the heart rate up and some beautiful tarmac through the Heartbeat countryside. There'll be a tea wagon to keep you fed and watered too.
Sunday is about 100 miles of similarly varied terrain giving you an earlier finish so you can set off for home in good time.
The event is part of the All Terrain Rally Challenge so if you are intending to contest the ATRC championship, or if you're coming from the Continent - please don't delay.
As in previous years if you want to ride with your mates you MUST enter a team or teams. This way I have an electronic record of who wants to ride with who.
The way this works is: if say there are five of you wanting to ride together…. as there are only 3 people in a team, 3 riders would put for instance Team Plonker 1, the other 2 riders would put Team Plonker 2. These two would not be entered in the team awards as they wouldn't have a full team, but at least they would ride with the other members or their party. Team entry is free.
TAKE A LOOK AT LAST YEARS VIDEO....
click here
Ride the Manxduro 18th/19th July 2015
Entries are now open for the second running of the Manxduro 2 day enduro in the Isle of Man 18th 19th July 2015. During 2014 we relaunched our 2 day enduro event as the Manxduro and it became a round of the NEEC (North of England Enduro Championship) series attracting a great deal more riders of a high calibre. Enduro names such as Tom Sagar and Brad Freeman stars in their own right on the UK and world scene. With 122 riders from the island and further afield coming to ride this unique off-road event on the terrain that cut the teeth of world champions David Knight, Danny and Jamie McCanney.
If you have always wanted to visit the Isle of Man – the world capital of motorcycle racing – but not got around to doing it yet then why not come and ride our enduro. See the sights and enjoy our hospitality as we have onsite camping, food and a social BBQ on the Saturday evening plus the organising club Southern MCC is 90 years old so we will be celebrating this year. With much land secured exclusively for this event, the course will take competitors over the islands most challenging, yet breath taking scenery over 2-days. Including the clubs own 114 acres of land with a purpose built race headquarters where we run many events in all forms of off road motorcycling.
An early bird discount is available to all riders who enter before April 30th. You even get a free T-shirt!
Classes: Championship; Expert; Over 40; Clubman, Sportsman; Over 50; Vinduro
Online entry system and more details can be found at
click here
2015 North of England Championship
29th March
Woodhouse NE-XC
N.R.E.C. EVENT
19th April
Masham NE-XC
N.R.E.C. EVENT
24th May
Thorp NE-XC
N.R.E.C EVENT
21st June
Woodhouse NE-XC
N.R.E.C. EVENT
18th & 19th July
Manx 2 Day Enduro
Southern MCC
9th August
Camphill NE-XC
N.R.E.C. EVENT
23rd August
Brinks
Manchester 17
6th September
Thorp NE-XC
''Stubble Cross''
XCENDURO EVENT
20th September
Long Mynd
Manchester 17
27th September
Tong NE-XC
XCENDURO EVENT
4th October
White Horse Enduro
N.R.E.C. EVENT
News Update
Motul
have confirmed that they will be supporting the North of England events through 2015.
Steve Leaming Plant
will also providing machinery for the N.R.E.C to ensure that the multi lap venues are ready to race through the 2015 series.
CEM Engineering, EnduroTek, KSDigital & Just Anth's Catering
Will continue to support the N.R.E.C.
If anyone would like to offer support to the N.R.E.C. through 2015 send an email nrec.sec@gmail.com.